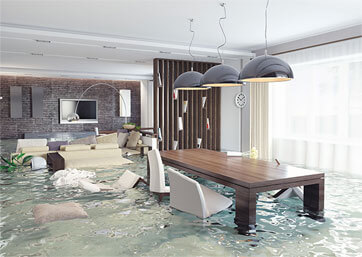 ANY TIME OF THE DAY, ANY DAY – WE RESPOND IMMEDIATELY TO YOUR EMERGENCY!
When you are faced with a disaster and flooding occurs, it can be overwhelmingly stressful. We are prepared 24/7 to answer your call. In particular, time is very important in order to avoid further damage. Your home or place of business can become flooded through back ups, broken pipes, and faulty plumbing to name a few.
Flood Damage Restoration
Consequently our highest priority is to promote the drying process and avoid mold damage. Due to saturated materials left for more than 24 hours, mold can develop.
We eliminate dangerous mold growth through containment, mold testing, mold removal, demolition, sanitizing and mold cleaning. With our quick response and use of advance technologies, we locate hidden moisture, promote and monitor the drying process.
Moreover, we isolate those areas to prevent mold spores from becoming airborne. Once airborne they can remain indefinitely if not filtered out of the air. Mold in the air can cause asthma and allergies. It is difficult to determine mold in the air, however it can cause a musty smell. We use air scrubber to purify the air quality and to protect the health of our customers.
can have your home or office back to pre-flood conditions within a reasonable time frame.
CALL PURE FLOW CLEAN FOR ALL YOUR CARPET NEEDS!