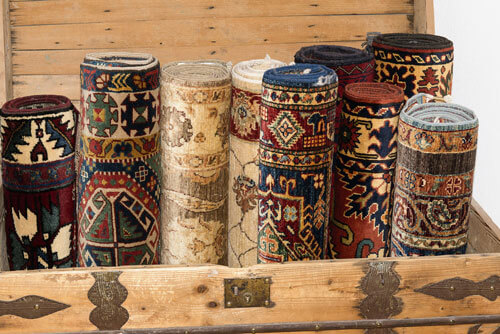 Area rugs come in an array of textiles, colors, patterns and construction types. The list below is just a sample of the many rugs available. These rugs are among the most common found in homes everywhere.
Hand knotted rugs are considered to be the best, and most prominent rugs. There is intricacy when making these rugs. They take considerable time and are labor intensive.  Premium crafted rugs of this type are expensive and can potentially last 100 years or more.
Hand Tufted rugs are relatively affordable and take less time to make and can last up to 10 years for premium ones. They are looped through a backing material and the loops are cut to form a soft pile. A canvas material is then glued to the back to hold the yard in place. These types of rugs are commonly found in bedrooms, family and living rooms.
Hand Hooked rugs are hand knotted and the durability is similar to Hand Tufted rugs except the loop design is left uncut to form an embroidered look. These type rugs also have an additional fabric backing glued to hold the yarn in place. These are typically found in bedrooms, family and living rooms.
Machine Made rugs take the least amount of time to make and last from 2-6 years. This type of rug is very affordable, made from synthetic materials like polyester, polypropylene, and nylon, which come in a variety of colors and patterns. Polyester and polypropylene are oleo-philic, meaning that they easily attracts oils. Any oil-based spill or residue will not easily be cleaned from the carpet's fibers. Not so with nylon carpet, it is much stronger and cleans better. It's used in high traffic areas throughout the house. These rugs are commonly found throughout the home.
Any rug can add style and personality to the home décor. They accent the home with a splash of color. The use of textures completely enhances overall appearance. Every home showcases a homeowners' creativity, and this is where a house becomes a home. Home is where the heart is.
We are the best Provo Carpet Cleaners and experts when it comes to your fine area rugs. Our on location cleaning can safely, gently and affordably clean all your rugs. We will correct and restore texture, brighten color, add vibrancy and rejuvenate the fringe. Let Pure Flow Clean restore all your beautiful area rugs and revitalize your home's interior.