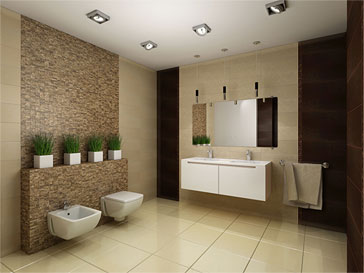 Tile floors are a beautiful addition to any home; however, that addition doesn't come without responsibility. Tile Floors are high maintenance and need to be swept, scrubbed and mopped on a continual basis. In order to maintain a fresh appearance to your tile, you have to keep up on the cleaning. Tile floors becomes layered by impacted soils such as: tracked in oil on the bottoms of our shoes, fluctuations in moisture grabs hold of filter dust, cooking oils, and outdoor pollutants attaching themselves onto the tiles and into the grout. Soil builds up fast and the work you do to clean and maintain your tile floors can quickly become tiresome.
Let Pure Flow Clean make your life a lot easier with our tile maintenance. We will keep your tile looking good, just the way you like it. We are Utah County and surrounding areas leading tile-cleaning service.  We use large powerful equipment that generates ultra-heated water. That water is softened on board our truck. It cleans, sanitizes and brightens both the tile and grout to an exceptional clean.
Call today and schedule your appointment to have your tile and grout cleaned and sealed with a special impregnator. The sealant fills the grout lines, causing an invisible barrier that protects against dirt, grime, spills and staining.